Fiberglass Hopper Front Containers
Fiberglass hopper front containers are used in a variety storage and assembly applications.
Stack, Nest or place on Container Racks for easy storage and handling
Hopper Front Stack and Nest Containers
Get high density storage and quick access to your product with Plexton Hoppers.These hopper-front containers give you all of the
strength and tough characteristics of our Plexton Stack-N-Nest containers with the ability to pick and visually inspect the contents.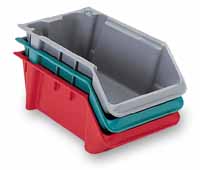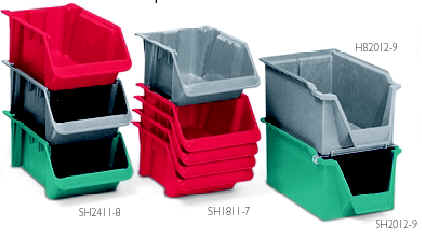 Front label area accommodates adhesive labels. Nest within their own dimensions and provide positive-lock stacking. Ideal
for heavy parts storage and hardware merchandising. Works well with Plexton Container racks.
Plexton Stack-N-Nest Hoppers
Stocked Color: Red, Green, Grey
Model
Outside Top Length
Outside Top Width
Outside Bottom Length
Outside Bottom Width
Inside Top Length
Inside Top Width
Inside Bottom Length
Inside Bottom Width
Height
Weight (lbs)
Price Each
Carton Quantity
HB2012-9*
20.5
12.3
16.5
10.6
16.5
10.7
16.1
10.4
9.3
8
call
6
SH1811-7
18.1
11.4
13.1
9.9
16
8
12.8
7.5
7.6
3.8
19.17
10
SH2012-9*
20.5
12.3
16.5
10.6
16.5
10.7
16.1
10.4
9.3
8
call
6
SH2411-8
24
11.4
19.2
9.2
21.5
8.8
19
7.6
7.9
5.1
22.93
10
SH2416-8
24.1
16.3
19.1
14.4
21.8
12.9
18.8
11.6
8
7
28.79
5
* Starred items from production only


SH2416-8


SH2411-8


SH1811-7


HB2012-9
SH2012-9
*From Production
*Available on made to order basis
Back to Fiberglass Totes

Back to Home Page

Last updated 7/2/15
Copyright Equipment and Supply Central 2011