Akro-Mils ShelfMax
Industry-leading, heavy-duty ShelfMax bins offer the best value in 6" high plastic storage bins. Now available in seven sizes and five colors, the 6" bins feature greater storage options for end users — including up to 85 percent more holding capacity than traditional 4" shelf bins, and a holding capacity that is up to 25 percent more than comparable 6" high storage bins.
Akro-Mils ShelfMax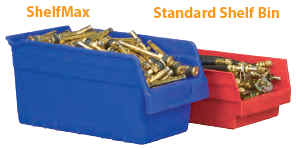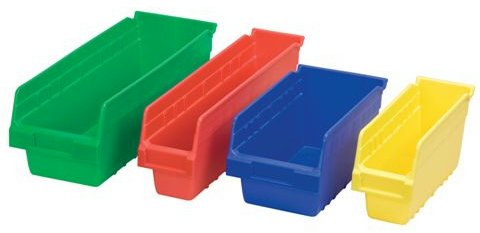 Maximize your storage capacity with 6" ShelfMax® bins. 3 New Sizes!

6" Deep Shelf Bin
• Superior construction compared to corrugated bins
• Rolled ridge provides added strength and durability when filled to maximum capacity
• Front opening is 3/4" higher than comparable 6" high products
• Large label area aids in part identification and bar code scanning
• Seven sizes and five colors: Red, Blue, or Yellow


Note: Carton Quantities only for this item.
| Model No. | L"xW"xH" | Ctn Qty. | Carton Price | Clear Bin Carton Price | Dividers # | Divider Pkg. Qty. | Price Pkg |
| --- | --- | --- | --- | --- | --- | --- | --- |
| 30040 | 11-5/8 x 4-1/8 x 6 | 16 | $ 43.20/ea | $ 48.80/ea | 40020 | 12 | $ 8.40/ea |
| 30048 | 17-7/8 x 4-1/8 x 6 | 8 | $ 30.80/ea | $ 35.60/ea | 40020 | 12 | $ 8.40/ea |
| 30080 | 11-5/8 x 8-3/8 x 6 | 8 | $ 37.20/ea | $ 42.88/ea | 40040 | 12 | $ 13.20/ea |
| 30088 | 17-7/8 x 8-3/8 x 6 | 8 | $ 47.20/ea | $ 54.40/ea | 40040 | 12 | $ 13.20/ea |
| 30090 | 11-5/8 x 6-5/8 x 6 | 10 | $ 41.50/ea | $ 47.50/ea | 40030 | 12 | $ 9.65/ea |
| 30014 | 23-5/8 x 11-1/8 x 6 | 6 | $ 97.50/ea | $111.90/ea | --- | --- | --- |
| 30094 | 23-5/8 x 6-5/8 x 6 | 10 | $ 81.50/ea | $ 94.00/ea | --- | --- | --- |
| 30098 | 17-7/8 x 6-5/8 x 6 | 10 | $ 51.50/ea | $ 59.00/ea | 40030 | 12 | $ 9.65/ea |
Last updated 3/5/18
Copyright Equipment and Supply Central 2013