ESD Shelf Bins and AkroBins
AkroBins® molded from revolutionary CarmelStat dissipate electrostatic charges.
AkroBins® stack on shelves & hang on Akro-Mils racks, panels, and rails.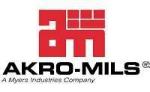 Your guaranteed guard against electrostatic discharge. Akro-Mils ESD containers safely
dissipate electrostatic charges that can severely damage electronic parts. Surface resistivity
of 105 ohms per square max, as tested under ASTM D-257. With the addition of
our grounding strap, Akro-Mils hanging systems become ESD compliant.



Copyright Equipment and Supply Central 2013