Stak-n-store Akro Bins
Akro-mils plastic parts bins optimize your storage containers and warehouse space. Heavy-duty, polypropylene bins stack
together or hang from Akro-Mils louvered racks and panels, rail racks, and carts for high-density storage.
AkroBins® are corrosion-proof and unaffected by weak acids and alkalis.
Stak-n-Store
for General Purpose Storage of Large Items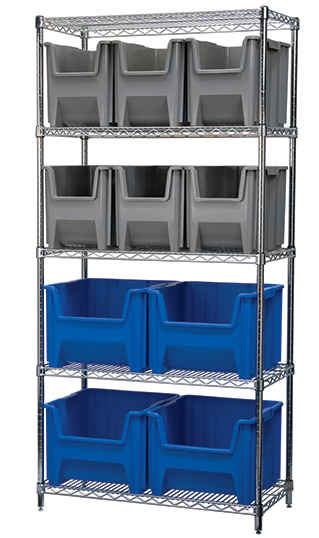 Stak-n-Store is the general purpose storage container for large items. Roomy enough
for most large items, and strong enough to stack. This container is a multi-purpose
container suitable for just about any storage need. Can be stacked on a shelf or on the floor.

Stak-n-Store

Colors: Gray, Red, and Blue
Click on the thumbnail for enlargement

Stak-n-Store will stack neatly on shelving, pallet rack or work station surfaces!

Part Number:
Size: L x W x H
width=face of bin
Carton
Qty:
Price each
#13-014
17 1/2" x 10 7/8" x 12 1/2"
4
$ 14.83
#13-017
15 1/4" x 19 7/8" x 12 7/16"
3
$ 18.83
#13-018
17 1/2" x 16 1/2" x 12 1/2"
2
$ 18.39

Copyright Equipment and Supply Central 2013
Last updated 3/5/18