ESD AkroBins
AkroBins® molded from revolutionary CarmelStat dissipate electrostatic charges.
AkroBins® stack on shelves & hang on Akro-Mils racks, panels, and rails. Akro-Mils line of ESD containers dissipate electrostatic
charges which can severely damage sensitive electronic components.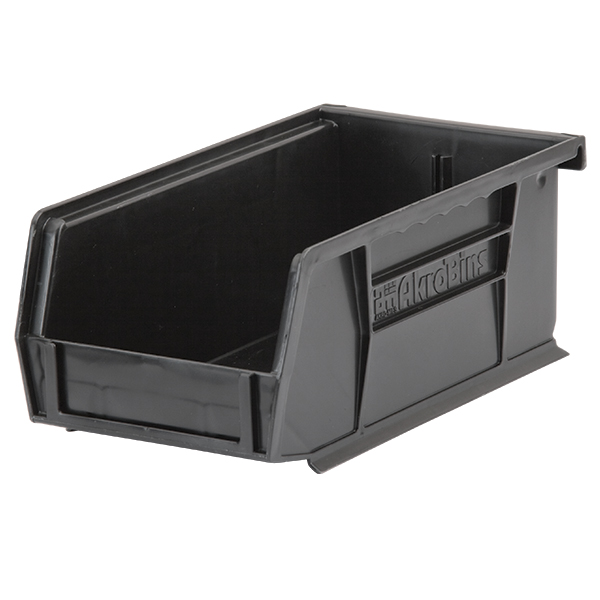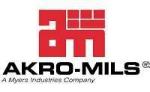 A guaranteed guard against electrostatic discharge. Molded from revolutionary new CarmelStat™, Superior to conductive containers
which possess a high risk of damage from uncontrolled discharges, our ESD containers provide the highest degree of protection available.
ESD containers are unaffected by weak acids and alkalis. Sturdy one-piece construction is water, rust, corrosion proof, and heat resistant to 300°F.
The advantages of CarmelStat™. Consistent dissipative ESD protection. 106 to 109 ohms/sq. Latest technology and best
ESD protection available. Permanent ESD protection will not wash off or wear out. Tough and durable impact resistant plastic.
Low sloughing, clean room compatible. 1% - 2% carbon black. Priced competitively with older
technology based conductive products. Full Carton Quantities only Please.
Model No.
O.D. L"xW"xH"
I.D. Length In.
I.D. Width In.
I.D. Height In.
Bin Load Capacity On Rack
Ctn Qty.

Price
per bin

Dividers
30210ESD

5.37x4.12x3

4.75

3.43

2.81

10 lbs

24

4.70
40210
30220ESD

7.37x4.12x3

6.75

3.43

2.81

10

24

6.30
40220
30230ESD

10.87x5.5x5

10.25

4.37

4.75

30

12

14.60
40230
30235ESD

10.87x11x5

10.25

10

4.75

50

6

22.85
40230
30240ESD

14.75x8.25x7

14

6.56

6.75

60

12

37.68
40245

Grounding wire 98100 - Designed to convert existing Akro-Mils racks and hanging systems. Conducts static charges away from the storage system.
Price each....call!
Bench stands and louvered panels
workstations. Go Here.
Back to Akro-Mils ESD Page

Back to Akro-Mils Home Page
Last updated 3/5/18
Copyright Equipment and Supply Central 2011