Distribution Totes - Attached Lid Containers
Attached lid containers provide safe storage for all types of items. Safely store, stack, and archive various items for
in plant use as well as a variety of home storage uses.
Attached Lid Containers
Distribution and Storage Totes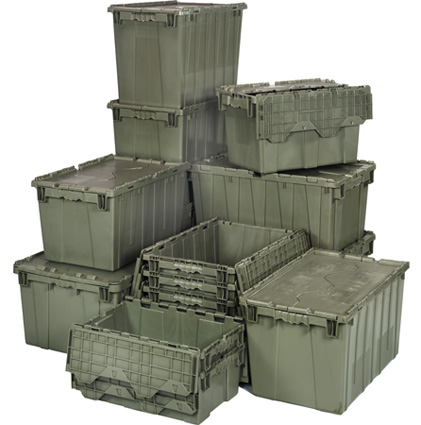 Strong, reliable and reusable totes, ideal for storage, distribution and order picking.
Stack for maximized storage and nest when empty
Textured, non-slip bottom ensures smooth conveying
Ergonomically designed handles allow for easy lifting
Recessed lids ensure maximum load stability
Padlock eye provides security option allowing lids to be fastened and/or locked
Molded from high density, FDA approved poly-ethylene
Lids close securely to protect parts from dust and damage
Distribution container has an optional 3 x 5 adhesive clear label holder which attaches securely for easy part identification. Model No: QDL-2115
OUT SIDE DIMENSIONS

INSIDE DIMENSIONS

TOP

BOTTOM

TOP

BOTTOM

MODEL NO.

L"

W"

L"

W"

L"

W"

L"

W"

CONTAINER HEIGHT

Price per tote

CTN WGT. LBS

20

11-1/2

18

10

17-3/4

10-3/4

17

9-3/4

7-1/2

17.85

4.0

QDC2115-9

22

15-1/4

19-1/4

13-1/4

20-1/4

14-1/4

19

13

9-5/8

18.30

5.0

QDC2115-12

22

15-1/4

19-1/4

13-1/4

20-1/4

14-1/4

19

13

12-3/4

19.85

6.0

QDC2115-17

22

15-1/4

19-1/4

13-1/4

20-1/4

14-1/4

19

13

17-1/4

27.40

8.0

QDC2213-12

22-1/8

12-13/16

19

10-7/8

19-7/8

12

18-1/2

10-5/8

11-7/8

21.10

6.0

QDC2420-12

24

20

21-1/4

17-1/4

22-3/4

18-1/2

21

17

12-1/2

31.15

8.0

QDC2717-12

27

17-3/4

24-1/4

16-3/4

25-3/4

16

24

14-1/2

12-1/2

28.25

8.0

QDC2515-14

24

15

21-1/4

12-3/4

22-1/2

14

20-3/4

12-1/4

13-3/4

32.00

8.0

QDC2820-15
28
20-5/8
25-7/8
18-3/4
26
19
25
18
15-5/8
54.75

14.0

Back to Quantum Home Page

Last updated 8/19/18
Copyright Equipment and Supply Central 2012