Quantum Plastic Shelf Bins
Shelf bin boxes are commonly used to replace worn out corrugated bin boxes or parts containers.
Quantum plastic shelf bins are the most economical way to store parts and components.

They are designed to fit a variety of storage needs such as small fasteners, nuts and bolts to
fittings and various hardware items. Colored plastic bin containers create greater organization and
flexibility when handling large groups of inventory items by color coding.
Shelf Bins Storage
These bins are designed to rest on a shelf surface size 12", 18" or 24" deep.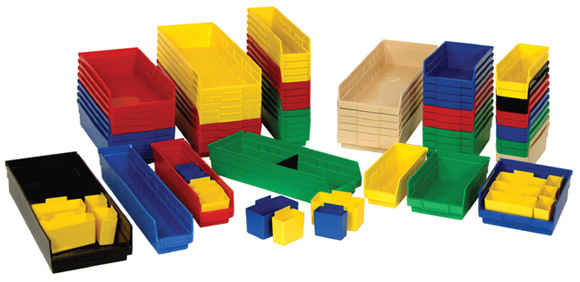 Uses:
Small parts organization on standard shelving or sloped pick racks
Applications:
Store-rooms, parts rooms, work stations, assembly, parts storage, and work benches
Features:
Wide hopper front, slotted label holder for identification
Materials:
FDA approved polyethylene/polypropylene
Be Sure to Specify Colors
Blue, Red, Yellow, Green, Ivory and Black.

4" Deep Shelf Bins Storage

Outside Dimensions in Inches

Max. No. of
bin cups per bin

Model No.
L"
W"
H"
CTN.
QTY.
CTN.
WGT.
Bin Price
Each
Divider
Model
QBC-111
QBC-112
QSB 100
11-5/8
2-3/4
4
36
15 lbs
1.45

---None---

3
0
QSB 101
11-5/8
4-1/8
4
36
15 lbs
1.60
DSB-101
6
2
QSB 102
11-5/8
6-5/8
4
30
16 lbs
2.45
DSB-102
9
4
QSB 107
11-5/8
8-3/8
4
20
14 lbs
2.65
DSB-107
12
4
QSB 109
11-5/8
11-1/8
4
8
8 lbs
4.00
DSB-109
18
6
QSB 103
17-7/8
4-1/8
4
20
15 lbs
2.20
DSB-103
9
3
QSB 104
17-7/8
6-5/8
4
20
18 lbs
3.05
DSB-104
15
6
QSB 108
17-7/8
8-3/8
4
10
12 lbs
4.16
DSB-108
19
6
QSB 110
17-7/8
11-1/8
4
8
11 lbs
6.60
DSB-110
29
9
QSB 105
23-5/8
4-1/8
4
16
15 lbs
4.35
DSB-105
13
4
QSB 106
23-5/8
6-5/8
4
8
12 lbs
6.05
DSB-106
21
8
QSB 114
23-5/8
8-1/8
4
6
9 lbs
7.35
DSB114
24
8
QSB 116
23-5/8
11-1/8
4
6
9 lbs
9.00
DSB-116
35
16
Go to Shelf Bin Units
Dividers

Bin Cups

48 pcs/carton
Model No.
Carton Qty
Ctn Wt.

Price per carton

Model No.

Length


Width
Height
Price
carton
DSB 101 / 103 / 105
50
3#
19.45

QBC-111

3 1/4"
1 3/4"
3"
21.60
DSB 102 / 104 / 106
50
4#
21.10

QBC-112

5 1/8"
2 3/4"
3"
38.40
DSB 107 / 108 / 114
50
7#
49.10
DSB 109 / 110 / 116
50
8#
57.30
Last updated 6/19/18
Copyright Equipment and Supply Central 2012