Plastic Service Carts
Quantum's All-Purpose Collapsible Bulk Containers Ship Work in Process Parts Efficiently
and then Knock Down for the Return Trip to Pack and Ship More Parts
** Effective Until Further Notice 4% Surcharge on All Below Prices **
Because of a Resin Shortage Due to Hurricane Harvey
Plastic Mobile Carts
Industrial strength cart is ideal for many industrial and commercial material handling applications.
Set of 2 swivel and 2 rigid 5" x 1-1/4" heavy duty casters allow for 550 lb. load capacity.
Available in two sizes with a 2 or 3 shelf combination. Available in Gray.
Plastic Cart Too Holder 96 Piece Tool Holder can easily fit any standard shelf cart!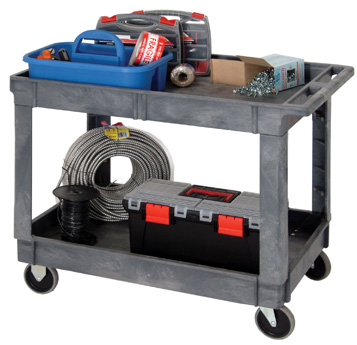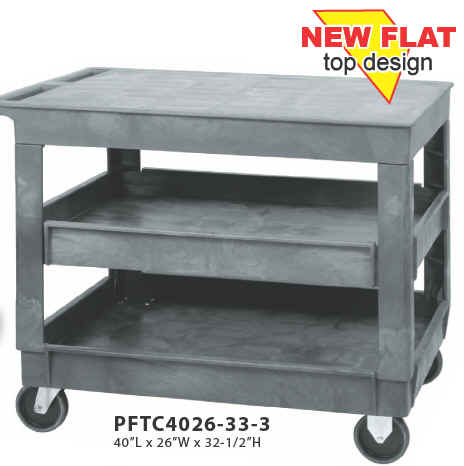 Plastic Carts
Model No.
Outside Dimensions
Number
Shelves
Load Cap
Price
Each
PC3518-33
34 1/4" L x 17 1/2" W x 32 1/2" H
2
550 lbs
$ 138.00
PC3518-33-3
34 1/4" L x 17 1/2" W x 32 1/2" H
3
550 lbs
$ 193.95
PC4026-33
40" L x 26" W x 32 1/2" H
2
550 lbs
$ 182.30
PC4026-33-3
40" L x 26" W x 32 1/2" H
3
550 lbs
$ 250.95
Flat Top Plastic Carts
Model No.
Outside Dimensions
Number
Shelves
Load Cap
Price
Each
PFTC4026-33-2
40" L x 26" W x 32 1/2" H
2
550 lbs
$ 184.90
PFTC4026-33-3
40" L x 26" W x 32 1/2" H
3
550 lbs
$ 250.95
Plastic Cart Accessories
Model No.
Outside Dimensions
Ctn Quantity
Weight
Price
Each
PC3518SHELF
34 1/4" L x 17 1/2" W x
1
10 lbs
$ 54.80
PC4026SHELF
40" L x 26" W x
1
15 lbs
$ 68.65
PCTH
96 piece tool holder for standard shelf
1
3 lbs
$ 34.00
PCTH Tool Holder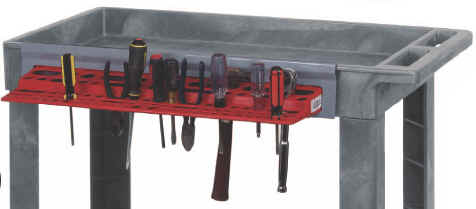 Last updated 6/19/18
Copyright Equipment and Supply Central 2012