QuickPick Bins by Quantum
Quantum's All-Purpose multi-sided picking bins for work in process efficiency and increased productivity
QuickPick Bins
The most unique storage bins available. This double open hopper bin provides front and back access to stored parts.
These heavy-duty, polypropylene storage bins provide an open hopper front and back, allowing double access to
stored parts. Bins stack one on top of the other, both vertically and cross-wise and nest when empty for space
efficiency. Optional dividers may be used front to back, side to side or both at the same time, dividing the
bin into four sections. A molded in label holder on both the front and back of the bin allow for easy parts identification.
Bins can be used on standard metal or wire shelving as well as on desks, bench tops or work stations.
Available in 6 sizes and in 3 colors: Blue, Yellow and Red.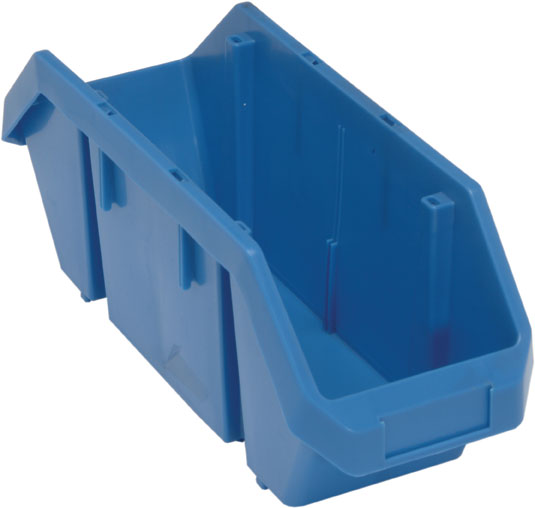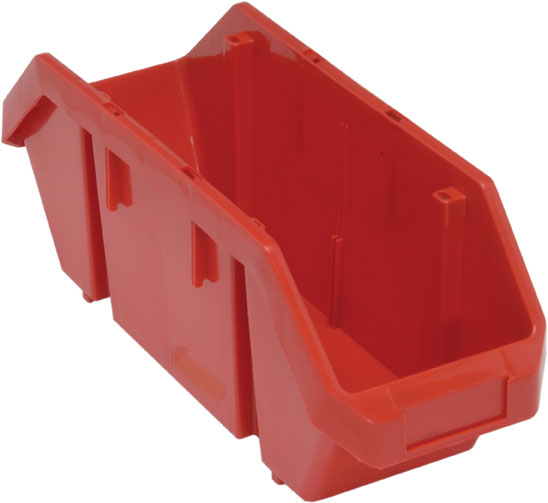 This unique bin has the ability to stack, nest and cross stack.
QuickPick Bins
| Model No. | Outside Dimensions | Ctn Qty | Weight | Price Each |
| --- | --- | --- | --- | --- |
| QP1265 | 12 1/2" L x 6 5/8" W x 5" H | 20 | 19 lbs | $ 3.70 |
| QP1285 | 12 1/2" L x 8 3/8" W x 5" H | 20 | 22 lbs | $ 4.00 |
| QP1496 | 14" L x 9 1/4" W x 6 1/2" H | 20 | 26 lbs | $ 5.25 |
| QP1867 | 18 1/2" L x 6 5/8" W x 7" H | 10 | 16 lbs | $ 6.40 |
| QP1887 | 18 1/2" L x 8 3/8" W x 7" H | 10 | 18 lbs | $ 7.50 |
| QP965 | 9 1/2" L x 6 5/8" W x 5" H | 20 | 15 lbs | $ 3.40 |
QuickPick Bin Length Dividers
| Model No. | Description | Ctn Qty | Weight | Price Per Pkg |
| --- | --- | --- | --- | --- |
| LD1265 | Divider for QP1265 | 10 | 2 lbs | $ 19.15 |
| LD1285 | Divider for QP1285 | 10 | 2 lbs | $ 19.15 |
| LD1496 | Divider for QP1496 | 10 | 2 lbs | $ 21.15 |
| LD1867 | Divider for QP1867 | 10 | 2 lbs | $ 24.65 |
| LD1887 | Divider for QP1887 | 10 | 2 lbs | $ 24.65 |
| LD965 | Divider for QP965 | 10 | 2 lbs | $ 10.75 |
QuickPick Bin Cross Dividers
| Model No. | Description | Ctn Qty | Weight | Price Per Pkg |
| --- | --- | --- | --- | --- |
| CD1265 | Divider for QP1265 | 10 | 2 lbs | $ 9.40 |
| CD1285 | Divider for QP1285 | 10 | 2 lbs | $ 10.20 |
| CD1496 | Divider for QP1496 | 10 | 2 lbs | $ 11.85 |
| CD1867 | Divider for QP1867 | 10 | 2 lbs | $ 10.40 |
| CD1887 | Divider for QP1887 | 10 | 2 lbs | $ 10.85 |
| CD965 | Divider for QP965 | 10 | 2 lbs | $ 9.40 |
Last updated 6/19/18
Copyright Equipment and Supply Central 2012