Jumbo Sized Stackable Plastic Bin Containers
Heavy storage container that either stacks or hang from a louvered panel. Extremely versatile,
tough, and durable container that is used on work benches and storage bin shelves.
** Effective Until Further Notice 4% Surcharge on All Below Prices **
Because of a Resin Shortage Due to Hurricane Harvey
Jumbo Size Stack Only Hulk Storage Bins
Same great features of Standard Ultra Series Stack and Hang Bins, More Great Selections, More Applications,
Greater Storage Capacity - Except.........Larger !!
Stacking Bins - Not designed for hanging rails because of the larger size of these bins!!

Be sure to specify Color
Standard colors: Blue, Yellow, Red,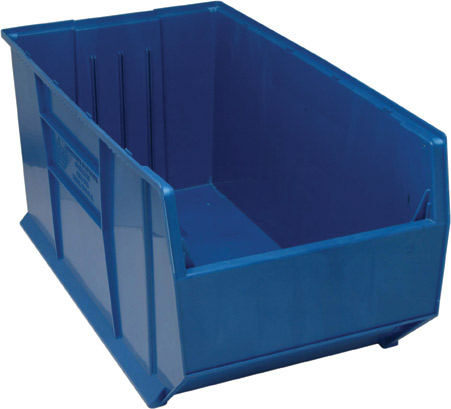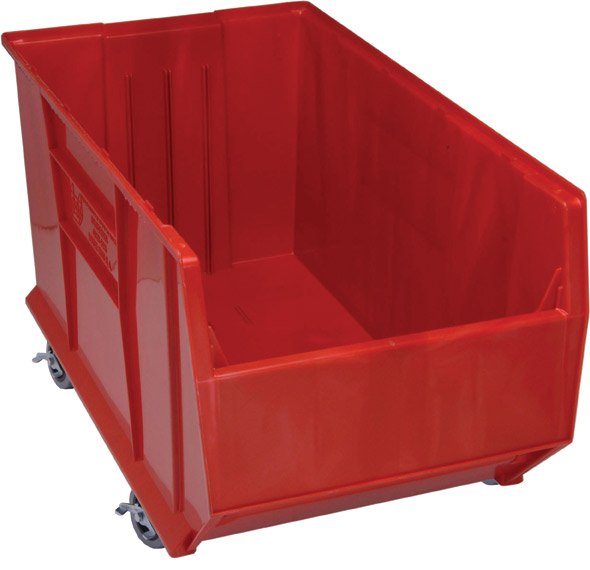 Standard Hulk Container Mobile Hulk Container (MOB)
24"L Hulk Containers
Model No.
Outside Dimensions
Ctn Qty
Price Per
Each

Divider
Model No.

Ctn
Qty
Price Per
Carton
View Window
Part No.
Carton
Qty
Price Per
Carton
QUS950
23 7/8" L x 8 1/4" W x 7" H
6

$ 18.40

DUS 950

6
$ 24.35
WUS 950
6
$ 15.15

QUS951
23 7/8" L x 8 1/4" W x 9" H
6
$ 19.95
DUS 951
6
$ 23.35
WUS 951
6
$ 15.40
QUS952
23 7/8" L x 11" W x 7" H
4
$ 21.55
DUS 952
6
$ 24.35
WUS 952
4
$ 10.05
QUS953
23 7/8" L x 11" W x 10" H
4
$ 22.50
DUS 953
6
$ 39.45
WUS 953
4
$ 20.15
QUS954
23 7/8" L x 16 1/2" W x 11" H
1
$ 24.45
DUS 954
6
$ 39.70
WUS 954
1
$ 5.25
QUS955
23 7/8" L x 18 1/4" W x 12" H
1
$ 24.85

DUS 955

6
$ 43.65
WUS 955
1
$ 7.70
QUS964MOB*
23 7/8" L x 16 1/2" W x 11" H
1
$ 48.85
---
---
---
---
---
---
QUS965MOB*
23 7/8" L x 18 1/4" W x 12" H
1
$ 49.70
---
---
---
---
---
---
*Represent Mobile Bin Units - Container with casters
30"L Hulk Containers
Model No.
Outside Dimensions

Ctn
Qty

Price Per
Each

Divider
Model No.

Ctn
Qty
Price Per
Carton
View Window
Part No.
Ctn
Qty
Price Per
Carton
QUS970
29 7/8" L x 8 1/4" W x 7" H
6
$ 25.55

DUS 970

6
$ 59.70
WUS970
6
$ 15.15
QUS973
29 7/8" L x 11" W x 10" H
4
$ 27.00

DUS 973

4
$ 47.40
WUS973
4
$ 20.15
QUS974
29 7/8" L x 16 1/2" W x 11" H
1
$ 28.40

DUS 974

1
$ 12.30
WUS974
1
$ 5.25
QUS975
29 7/8" L x 18 1/4" W x 12" H
1
$ 28.55

DUS 975

1
$ 13.05
WUS975
1
$ 7.70
QUS976
29 7/8" L x 16 1/2" W x 15" H
1
$ 34.15

DUS 796

1
$ 14.85
WUS976
1
$ 7.90
QUS984MOB*
29 7/8" L x 16 1/2" W x 11" H
1
$ 49.75

---

--
---
---
---
---
QUS985MOB*
29 7/8" L x 18 1/4" W x 12" H
1
$ 57.05

---

--
---
---
---
---
QUS986MOB*
29 7/8" L x 16 1/2" W x 15" H
1
$ 55.50

---

--
---
---
--
---
*Represent Mobile Bin Units - Container with casters
36"L Hulk Containers
Model No.
Outside Dimensions
L x W x H

Ctn
Qty

Price Per
Each

Divider
Model No.

Ctn
Qty
Price Per
Carton
View Window
Part No.
Ctn
Qty
Price Per
Carton
QUS993
35 7/8" x 16 1/2" x 17 1/2"
1
$ 56.55
DUS-993
1
18.70
---
--
--
QUS994MOB*
35 7/8" x 16 1/2" x 17 1/2"
1
$ 76.79
---
--
---
---
--
--
QUS995
35 7/8" x 19 7/8" x 17 1/2"
1
$ 62.00
DUS-995
1
18.70
---
--
--
QUS996MOB*
35 7/8" x 19 7/8" x 17 1/2"
1
$ 87.60
---
--
---
---
--
--
QUS997
35 7/8"x 23 7/8" x 17 1/2"
1
$ 67.50
DUS-997
1
18.70
---
--
--
QUS998MOB*
35 7/8"x 23 7/8" x 17 1/2"
1
$155.55
---
--
---
---
--
--
*Represent Mobile Bin Units - Container with casters

Back to Ultra Series Standard Sizes

Back to Quantum Page

Last updated 6/20/18
Copyright Equipment and Supply Central 2012